Exciting times at Old Anniesland as Junior Rugby – both Mini and Midi sections – return to training from this Sunday, 21st March.
Her's a quick guide to protocols in place to keep everyone safe:
Full guidance below:
GHK
GHK RFC – Junior Rugby
RETURN TO RUGBY (March 2021)
Introduction
The club has agreed the following plan for a safe return to rugby for junior section players (minis and midis), commencing Sunday 21st March 2021. The initial focus will be on short, no-contact training sessions at Old Anniesland for each age group, with a review following Scottish Government updates on whether contact activity or local competition is allowed.
Training
Sundays 21st March, 28th March (NOT 4th April), 11th April, 18thApril and 25th April 2021.
| | | |
| --- | --- | --- |
| Time | Age group | Pitch size |
| 9.30-10.50am | P2/3 | 1 x ½ pitch to cater for max 30 players including coaches in 1 bubble |
| 9.30-10.50am | P4 | 1 x ½ pitch to cater for max 30 players including coaches in 1 bubble |
| 11.15am-12.35pm | P5 | 1 x ½ pitch to cater for max 30 players including coaches in 1 bubble |
| 11.15am-12.35pm | P6 | 1 x ½ pitch to cater for max 30 players including coaches in 1 bubble |
| 11.15am-12.35pm | P7 | 1 x ½ pitch to cater for max 30 players including coaches in 1 bubble |
| 1-2.20pm | Under 14s | Ideally 1 full pitch with 2 bubbles of 15 including coaches in a ½ pitch area each |
| 1-2.20pm | Under 15s | Ideally 1 full pitch with 2 bubbles of 15 including coaches in a ½ pitch area each |
| 1-3pm | Under 18s | Ideally 1 full pitch with 2 bubbles of 15 including coaches in a ½ pitch area each |
Pre-training and booking
All coaches are required to complete Scottish Rugby Return to Rugby E-Learning course, and this is also recommended for parents of minis and midis players. Older midis players should also be encouraged to do the course.
The e-learning course can be found at https://www.scottishrugby.org/clubs-and-schools/return-to-rugby
In order to comply with Scottish Government and Scottish Rugby guidance we have introduced new online protocol for signing up to individual sessions, completing a health questionnaire, and checking in and out of sessions. Players must be booked in to each session in advance either via the sports train app or via a method identified by the lead coach for each age group (e.g whats app, emails etc). This allows us to adhere to procotol around numbers in each bubble.
Ideally the Sports Train app should be used for each parent or child to complete the health questionnaire so we can rule out any player having symptoms and spreading Covid. Some lead coaches may decide to use the wider functionality of the app, so please liaise with your lead coach as appropriate.
If anyone has any issues with the sports train app, please speak with your Team Lead.
Parents can download the 'sports train' app which can be accessed on the App store or Google Play. Once downloaded, tap on 'I have a club code' and use the code sent to you by your Team lead (each age group has a different code to assign you into the right training group). Please use your child's name when registering and make a note of your username and password.
Arrival
Players should arrive, no earlier than 5 minutes before each scheduled training session. Parents should only park in the car park pictured below. Please note no cars are allowed beyond the yellow barrier gate.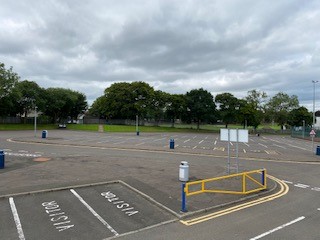 There are no changing facilities available at this point so players and coaches should be in training kit and any change to footwear, for example, should be made in the car park.
Parents should accompany their child along the path in front of the stand and follow the route round from there ending in front of the Pavilion. Parents are also free to drop-off their child in the car park and return before the end of the session to wait in the car par park if their child is comfortable walking-in on their own.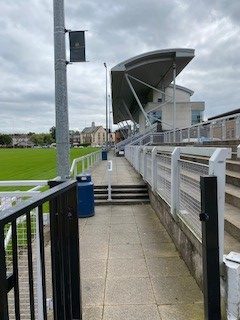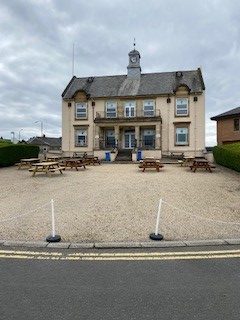 A club representative will be at this point in front of the Pavilion to remind everyone of protocol and to signpost players to the appropriate pitch and age group team lead. The registration procedure will have involved a health questionnaire but we would like to stress that if your child fulfils any of the criteria below, you should not attend rugby;
Have any symptoms of coronavirus
Are self-isolating
Have returned from any countries that are on the quarantine list in the past 14 days
Have been in contact with anyone who has Covid
At this point we ask that parents return to their cars in order to best manage safety around the pitches and keep in line with best practice protocols. For new players and the P2/3 age group we understand that returning to rugby or starting at a new club can be daunting, and will be flexible on having parents near the pitch if required. However, in this case all parents must maintain 2 metres distancing and stay out with the playing area.
There is no access to the Pavilion, which includes the toilet facilities. We would ask that your child has gone to the toilet in advance of leaving the house.
Hand sanitisation points will be available around the venue and should be used on arrival. Club coaches will go over hygiene protocols at the start of each session with the players.
Individuals should supply their own clearly marked water bottle, which is not for sharing. They should also bring a small bottle of sanitiser, a pack of tissues and wear clean kit every week.
Training
Training sessions will follow the guidelines published by Scottish Rugby, these are subject to review and update. Players will be organised in training bubbles based on their age groups and allocated a training area when they check-in. They must proceed to this area as directed.
For minis age groups (P2/3 to P7), there is no contact activity allowed, but touch rugby is permissible and there is no requirement for physical distancing for children. Coaches however will still remain 2m apart.
For the midis section (U13 upwards) there is no contact or touch activity allowed. All coaches and participants will have to remain 2m physically distanced at all times and activities will be amended to keep in line with this requirement.
Age groups will train in a staggered manner across Sundays to manage flow on the day.
Balls and cones will be organised in sets for each training area and group of players. These will be sanitised before and immediately after each training session.
Post training
Team Leads will walk players round to the yellow barrier gate by the car park for pick up by parents. Exiting the grounds is shown by the blue dotted line below. All players should sanitise their hands and leave the grounds promptly.

For full reference the site map below identifies car parking, entry and exit routes, hand sanitisation points and pitches.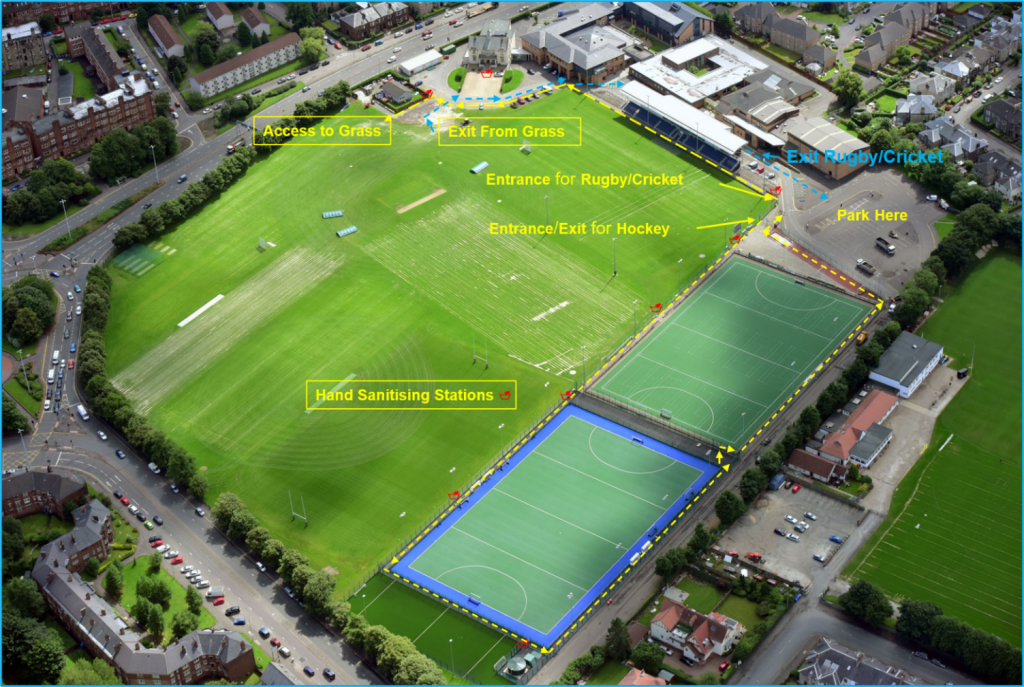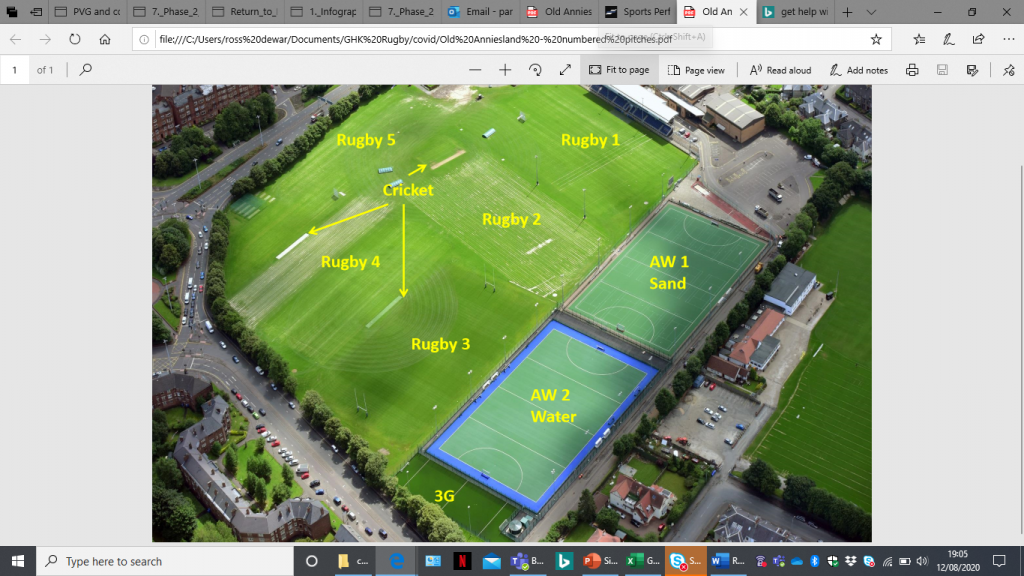 PLEASE NOTE THERE IS NO PEDESTRIAN ACCESS TO THE GROUNDS FROM CROW ROAD AT THIS TIME. EVERYONE MUST ENTER VIA THE MAIN GATE ON ANNIESLAND ROAD.
Please note that the GHK Covid coordinator Alan Dunipace contact is below